Load Checklist & Site Plan
Before engineering can begin:
Application for Service (Required for new services only) – The application for service must be completed in entirety and is required to meet membership obligations.
Load Checklist – ACEC requests some basic information about the electric load you plan to have at your site. This helps us properly size facilities to meet your demands. Your electrician may be able to help you complete the service requirements portion.
Site Plan – This is a drawing or sketch of your property. To properly design your new electric service and choose the best path for buried electric cable, ACEC must know ahead of time where you wish to place your meter. Identify as many things as possible. It is important for us to know the location of all existing and future facilities, structures, and other potential obstructions. Clearly mark a meter point at your site for ACEC to measure from. Consult with your electrician or building contractor regarding potential meter locations. If you need assistance in choosing a meter location, an ACEC Distribution Design Technician (DDT) can meet with you on-site to discuss location options.
All forms must be received at our office before a site visit can be done.
Before construction can begin:
The site must be backfilled to within 4 inches of the final grade.
The service route must be cleared – a 10-foot wide path cleared of all brush, etc.
The electric meter base must be installed and inspected per ACEC's Service Requirements.
Any member-owned underground facilities must be marked and/or exposed.
All forms, fees, and inspection must be received at our office.
Estimates provided are only valid for the current construction season. If the job is done during our non-construction season (November – April), additional charges may apply.
Here is a sample site plan sketch: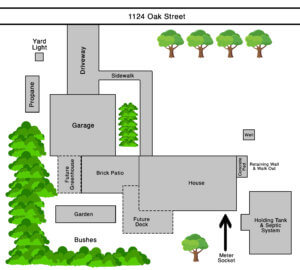 Reminder – A clear 10 ft path is required to install your electric service. Items that should be identified are:
Meter Socket
House
Accessory Building/Garage/Pole Shed
Septic System/Mound System/Drain Tiles
Well/Water Lines/Sprinkler Systems
Phone/Cable or Satellite T.V. Lines
L.P. Tank/Gas Lines
Deck/Patio/Swimming Pool
Cement or Blacktop Driveways/Sidewalks
Landscaping (trees, retaining walls, fencing)
Steep Hills/Wetlands
Yard Light
Prior to a Distribution Design Technician visiting the site, the site plan must be completed and received by ACEC. If you prefer a paper copy, click the button below to download the load checklist and site plan PDF.
Load Checklist & Site Plan (PDF)
Mail To: PO Box 70, Friendship, WI 53934
Email To: acec@acecwi.com
Drop Off:
401 E Lake Street, Friendship, WI 53934
W6290 State Rd 33, Pardeeville, WI 53954
N1519 State Rd 22, Wautoma, WI 54982
Load Checklist & Site Plan