When: Saturday, October 8
Where: FRIENDSHIP OFFICE
Time: 10 a.m. – 2 p.m.

You're invited to help us celebrate co-op month and providing 85 years of reliable electricity to our members from 10 a.m. to 2 p.m. at our Friendship office. Melvin The Moo Truck will be at our event selling ice cream and Focus On Energy will be hosting a pop-up shop, offering exclusive member-only sales for energy efficient items. If you're interested in purchasing items at this event, please bring cash or card for payment. All food and prizes are while supplies last.
Join us for a family-fun day that includes:
Energy-Saving Deals
Members may purchase energy efficient items from Focus On Energy during their pop-up sale. More information about these deals below!
Prizes & Games
Don't miss out co-op swag and giveaways. Members will receive a special 85th anniversary gift while supplies last in addition to other prizes at booths and games for all ages.
Bouncy House
Grab a friend, line up, and race each other in the obstacle course bounce house.
Ice Cream Truck
The first 250 members will receive free ice cream from Melvin the Moo Truck, one of the awesome amenities of Flyte's Family Farms.
Face Painting
Get your face painted by the talented staff at One Brush At A Time. They will be offering face painting, glitter tattoos, and airbrushing.
Co-op Booths
Learn about a variety of co-op programs and information, including solar, Operation Round-Up, STEM Grant, SmartHub, and more.
Bill Credit
Be one of five members to win an $85 bill credit.
Lunch On Us
Enjoy a brat, burger, or hotdog with chips and a water on us.
Focus On Energy Pop-Up Event
We have partnered with Focus On Energy to offer exclusive discounts on energy-efficient ENERGY STAR products such as LED lightbulbs, efficient showerheads, water aerators, and more. Prices for these products vary from $7.50 to $30, depending on which items you'd like to purchase. Here's a sneak-peak of the energy-efficient items that will be offered at our event and online during our virtual event October 3 – 17.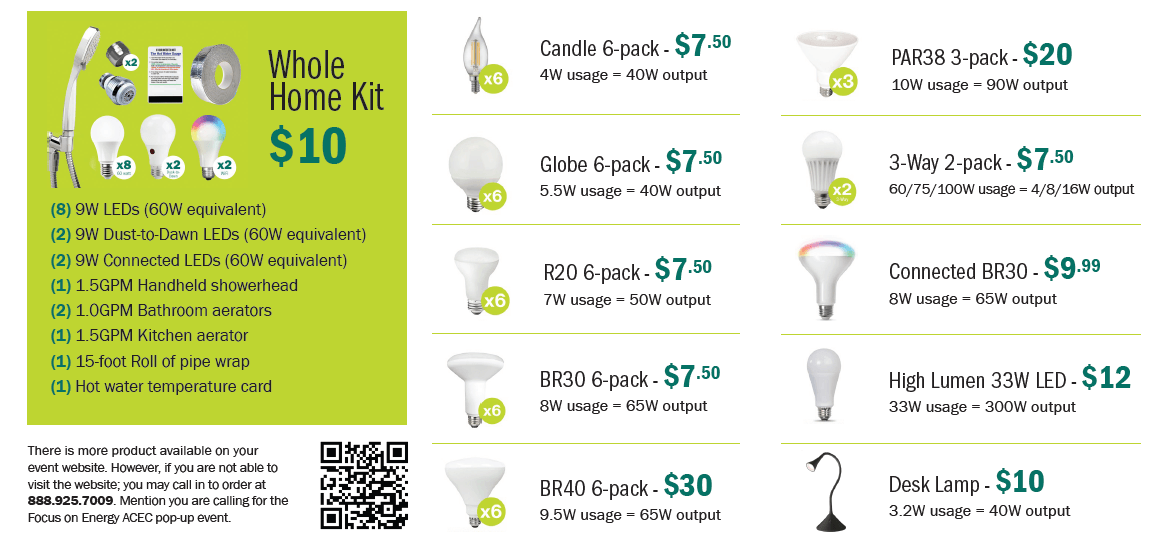 In addition to having Focus On Energy staff on site at our event selling energy-efficient kits, we'll be offering these deals for a two week period in October (October 3 -17). Members may order items online during that time frame by visiting their website at techniartpopup.com/focusonenergy_acec or by calling (888) 925-7009.