Director Candidates
Districts 2, 3, and 4 are up for election this year. 
Candidates running for these director seats have each been asked to submit a short, 350 word or less, biography answering the questions listed below. Candidates have provided their contact information if you would like to reach out with additional questions.
*Note that no edits have been made to the candidate's submissions.
Each candidate was asked the following questions:
Please share information about yourself including what experience or abilities you would bring to the ACEC board?
What interests you most about serving on the board?
What are some of the important issues you believe the board needs to focus on in the next few years?
MEET THE CANDIDATES
DISTRICT TWO CANDIDATES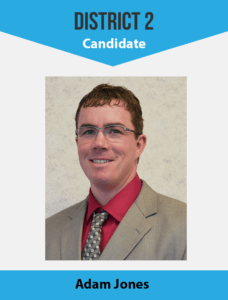 Hello ACEC members, I'm Adam Jones and I would appreciate your vote for the ACEC Board of Directors.
I have been a lifelong resident of Waushara County. Since an early age, I was involved in 4-H and learned the importance of community service and being an advocate for your local area. As an adult I have always strived to keep the best interests of the community in the forefront.
I grew up in Wild Rose on my family's vegetable and beef farm. After attending college, I started my own construction company and built custom homes and light commercial projects for 14 years. This gave me the opportunity to work well with many different types of people while solving problems efficiently and keeping my job tasks organized and profitable. It also gave me the skills to know how to effectively invest money to better my small business.
I had the opportunity to go back into farming four years ago. With a struggling agriculture economy, I needed to make very important decisions about the future of the farm and determine the best ways to keep the farm profitable. I'm Vice President of Waushara County Farm Bureau and have completed a year-long leadership institute training. My attention to detail, education and determination will make me a great director for members in District 2.
I am interested in serving on the ACEC board to learn more about current operations and how to make improvements to best serve the community. I would like to fully explore all of the facets of how ACEC currently provides service within our local areas. I would like to use this information and focus on having more input from members to best meet their needs.
An important issue that I would like to see addressed is the growing need for power and what can be done to provide cost effective solutions. Everyone wants to keep rates low. As a board member I would like to help shape how can we continue to maintain this electrical resource, which is vital to our rural communities, while continue to grow and be profitable.
Contact information:
Cell phone: 920-295-9323
Home phone: 920-787-2208
Email: adamjonesconstruction@gmail.com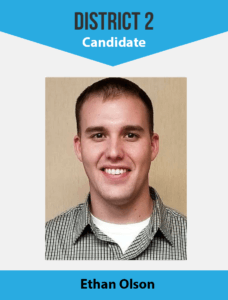 My name is Ethan Olson and I would like to represent you on the Adams-Columbia Electric Cooperative Board.  I grew up in Arkdale Wisconsin, and agriculture has always been a large part of my life being involved in my grandfather's cash crop farm.  I had the opportunity to attend UW-Platteville where I graduated with a Bachelor's Degree in Agriculture Business and a Minor in Soil and Crop Science.  My fiancé and I recently purchased a home in Plainfield which is where I enjoy working as a Sales Agronomist for TH Agrichemicals.  I have seen firsthand how farmers are impacted by rising costs and control issues.  I would like to relay the message of why and where the costs of our power are incurred. Agriculture needs a strong voice on the Board, and I would like to be that voice for agriculture for District 2.  I thank you, in advance, for considering me as your representative.
Contact information:
Cell phone: 715-935-0923
Email: olson4010@gmail.com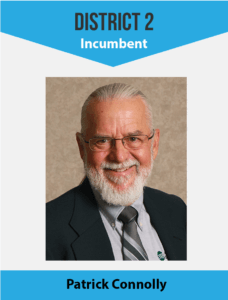 Educational & Military Background:
Wautoma High School (1958)
USMC (1958-62) Aviation Radio Technician
Indiana Institute of Technology (1962-65) Electrical Engineering studies
Employment:
General Telephone Co. of Indiana (1964-65)
Louis Allis Co., Milwaukee WI (1966-75)
Waushara Electric Cooperative/Adams-Columbia Electric Cooperative (1975-2001) Engineering Assistant responsible for power line design & staking
Self Employed Consultant (2001-2006) Power line design & staking
Experience and Abilities:
I have long held a commitment to active engagement in my community through both leadership and participatory roles.  This service has enriched my life and, I hope, contributed to the quality of life for my neighbors.  It has been my pleasure to have served in these organizations: Mt Morris Pioneers 4-H Club (Leader), Blackhawk Folk Society (Co-founder & Board Member), Wautoma Area School District Board of Directors, Mt Morris Town Board (Supervisor & Town Chair), ACEC Board of Directors (2007-2019).
I would like to continue my service to my ACEC neighbors through membership on the Board of Directors.  Cooperatives were originally formed and still exist today to improve the lives of their members. ACEC provides essential services to our member-owners by bringing safe, reliable, and affordable electric service to their homes, farms, businesses, factories, schools, places of worship, and community gathering places. I believe I can make a worthwhile contribution to continuing and improving those services.
The near and long-term future of ACEC holds many challenges, but also many opportunities. I believe emphasis on and improvement in the continuity of high quality, cost-effective service should continue to be be our primary concern. In addition, we need to stay abreast of developments in potential areas of growth, such as distributed renewable generation, battery storage, and plug-in electric vehicle charging. All technological, regulatory, and political issues affecting the electric power industry will demand the close attention of the ACEC board in order to continue providing the level of service our members deserve. It would be my honor to contribute to these efforts as a member of the Adams-Columbia Electric Cooperative Board of Directors.
Contact information:
Email: pconnolly@acecwi.com
DISTRICT Three CANDIDATES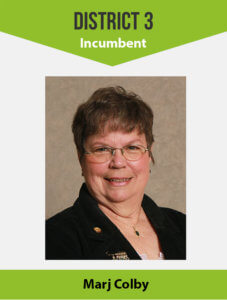 I am a retired technical college and college educator who brings problem-solving experiences and electric coop director education courses along with 11 years of board experience to the table. I have a strong background in cooperative governance as well as experience serving on other boards.  My husband and I own and operate a cow-calf and cash crop farm with shared decision-making in breeding, marketing and cropping. I have been actively involved in local and state organizations including hospital foundation, sports boosters, extension homemakers, 4-H, FFA, state and national cattlemen and master gardeners.
Serving on the board has enabled me to talk coops to people all across the state, sharing concerns, ideas and solutions. It gives me the opportunity to meet, and talk coops and other rural issues, with state and national legislators.  It has been exciting to work toward partnerships with other coops and to commence the part ownership agreement and the building of the Alliant Riverside generation project.
One of the issues the coop will face is maintaining our reliable, affordable service while continuing to experience member efficiency which results in flat or declining energy sales. We  need to keep our infrastructure strong and up to date to meet the needs of our members.
Another issue is being responsive to member needs in our sustainability-minded society.
We need to keep abreast of environmentally friendly and member friendly innovations in alternative energy solutions as well as energy storage. A third issue would be developing and enhancing partnerships with other coops (Marquette-Adams for fiber communications) and energy providers (Alliant Riverside generation project).
Contact information:
Cell phone: 608-547-1722
Home phone: 608-584-5396
Email: oakwood1@maqs.net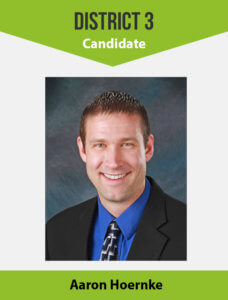 My name is Aaron Hoernke, and I have been a Financial Advisor with Ameriprise for the last 15 years. I am originally from Adams-Friendship, but currently reside in Arkdale with my wife and children.  I have received my undergraduate degree in Finance with a minor in Economics from UW Green Bay and my MBA from UW Oshkosh.  I am currently involved with the Arkdale Lutheran Church Endowment Committee, The Adams-Friendship Education Foundation, and assisting with my children's extracurricular activities.
I would like to apply for the position of Board Member here at ACEC. My goal is to serve on the board to help our community by bringing my experience and perspective. The future of ACEC is very important to our community.  I would like the opportunity to help make policies and decisions that will not only impact us currently, but also focus on future ramifications of those decisions.
I believe some issues that we are currently facing include providing low cost energy to rural areas, incorporating renewables and developing low emission energy.
Contact information:
Cell phone: 920-379-9553
Email: aaron.l.hoernke@ampf.com
DISTRICT four CANDIDATES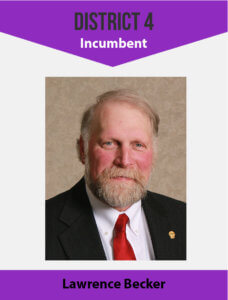 Kathy and I have been residents of Marquette County since 1977 raising our family here. A UW graduate and a Vo-Ag teacher that farmed with family with dairy, sheep and crop enterprises. We are still raising sheep and hops. Involved with many different coops over the years, farm service, credit, processing, marketing, insurance and electric. Have served on 9 different coop and producer boards. Currently serving as Chairman of the ACEC board and representing Wisconsin on the NRECA board. In the past I have served as Chairman of the American Lamb and Wool Councils promoting those products for US producers.
I want to make sure the members interests and concerns are heard in the discussions and decisions that occur in the boardroom and I like to ask what if? In the time I have served the membership many things have changed, it has become more technical and complex but the need to listen to the members and provide reliable service at a fair price has not. I enjoy working with others to guide and govern. The way the coop operates is affected by rules and regulations that are determined by agencies and laws. I am comfortable in presenting the coops' views to the people who determine these rules/ laws and advocating for the membership.
ACEC must continue to form strategic partnerships to gain lower costs and reduce risks. We must continue to look for partners as we delve into broadband, more renewables, demand pricing and other changes in electric service. The balancing of charging fair rates,maintaining financial stability and returning patronage/margins to the members will be a priority. ACEC is dependent on strong communities so providing opportunities for economic development to keep and develop new jobs is an important issue. Helping our youth with educational opportunities will continue to be a focus. Our members deserve openness and accountability in the management of their coop. Finally the board needs to be strong advocates of our members in the regulatory and political discussions today.
Contact information:
Cell phone: 608-547-5831
Home phone: 608-297-2640
Email: clfbecker@frontier.com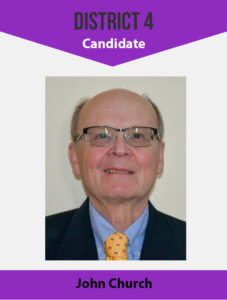 I have been a member of ACEC since 1983. I have 40 years of global sales and sales management experience. For 32 years I was directly involved in the in the electrical power generation industry for both standby and prime power applications. The prime movers for generator sets were diesel and gas engines and steam and gas turbines. These generator applications ranged in size from 5 kilowatts to 120 megawatts. My primary roles in the last 25 years were both from an engineering and sales management perspective. I was responsible for over $70 million in annual sales, managing a staff of 25 people. For the last 7 years I was involved in the wind turbine power generation applications for GE.
I was on the Board of Directors of the Electrical Generating System Association (EGSA) a global organization for the power generation industry for three years.
Having just retired I now want to volunteer, giving back to my community. With my background in power generation and managerial experience I saw a good fit with the ACEC Board of Director's position.
My only experience with the ACEC has been electrical power for our home, and the installation of our geothermal system. As I prepared to seek a position on the board, I reviewed the various programs from ACEC.  I was very impressed with all the various programs, especially programs for educational grants, business loans for economic retainment and development and support to our local agricultural farms.
I would be proud to be involved in supporting these programs, educating Coop members and maintaining a strong fiscal position for AECE. ACEC needs to continue take the lead in helping members to look at ways to become more efficient and effective in the use of electricity, consider alternative energy sources and how best to apply alternative energy to their daily lives.
It would be an honor to be elected to the ACEC board of directors.
Respectfully submitted:
John A. Church
Contact information:
Home phone: 920-787-2844
Email: jchurch000@outlook.com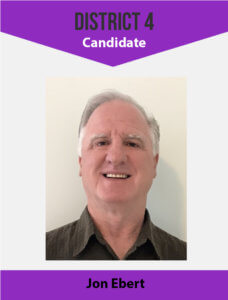 I grew up on a dairy farm in Marquette Co.  My career at Adams-Columbia Electric Cooperative (ACEC) began in 1974.
My wife, Jan and I have been married 45 years and have three grown children and four awesome grandsons.
I began my career as an apprentice lineman working in the Briggsville area.  After becoming a journeyman lineman and working for ACEC for eight years, I became Area Supervisor for the Montello Area for ten years.  Following that position I became Area Manager for the Pardeeville Office.  My next position led me to become Manager of Operations, and eventually became V.P. of Operations and Engineering, working in the Friendship Office.  My management years provided opportunities to serve on many committees. The committees included the WI Job Training and Safety Committee, Chippewa Valley Technical College Apprentice Committee, Park Technical Electrical Power Distribution Board and President of the WI Line Superintendent Association.  I also competed the Manager Internship Program.
One of my favorite volunteer experiences with ACEC was the training of Co-Op employees in Bolivia, Belize and Guatemala in electrical distribution and safety.  This program was with the National Rural Electric Cooperative Association.
In 2005, Hurricane Katrina devastated a large portion of Louisiana.  I had the opportunity to lead a crew of lineman from Wisconsin to assist in rebuilding power lines and restore power to Co-Op members.
I am interested in the opportunity to serve our members, and feel that my experience and insight would be a benefit to ACEC.  Any decision as a board director would be made in the best interest of our members with honesty and integrity.
An important issue for the board to focus on is safety for our employees, members and associated organizations.  Keeping our costs within the organization to be fair & competitive is another issue.
Electric Vehicle Supply Equipment (EVSE) along with battery storage for renewable energy is important.
Term limits for board directors should be discussed during Strategic Planning.
Contact information:
Cell phone: 920-295-2766
Home phone: 920-295-8949
Email: Jjebert54@centurylink.net